David Dahari can trace his love for outer space back to his childhood.
Dahari, a physics and physical science teacher at Wahconah Regional High School in Dalton, recalls afternoons spent in the Museum of Natural History in New York City, just a stone's skip away from his grandmother's at the Metropolitan Museum of Art. He'd spend hours in the planetarium there.
"I was always just amazed at how vast and incredibly cool space was," Dahari said. "I was taken by a young age by all the mystery of space — a combination of [the museum]Carl Sagan and a lot of good teachers I had along the way encourage me to pursue science."
It's that fascination with the stars, that love of the unknown and still burgeoning mysteries of the cosmos, that he tries to share with his students in the classroom and the people in his life. He watched the International Space Station pass over his backyard with his wife and three children, for instance.
Recently, though, Dahari got a chance to upgrade his view of the stars by a wide margin. Somewhere between here and outer space, he was surrounded by state-of-the-art equipment and top minds in the astronomy field, doing what scientists do best: research.
Dahari just got back from the trip of a lifetime. The best part: He gets to tell his students about it.
Dahari was chosen to participate in the Airborne Astronomy Ambassadors Program, which allows classroom teachers to participate in research. The program is run by NASA and the Search for Extraterrestrial Intelligence Institute.
"The goal is to give classroom teachers a taste of what's really happening in state-of-the-art research with NASA," Dahari said.
After getting that taste, the teachers can return and give students an idea of ​​the process that goes into intensive scientific research, including proposals to make use of the latest technology like the Strategic Observatory for Infrared Astronomy. SOFIA, for short, is a modified Boeing 747 aircraft that has been outfitted with a giant reflecting telescope, a camera capable of capturing infrared images and other cutting-edge equipment.
"When astronomers do this research, they have to make a case for themselves to use this telescope," Dahari said. "There's only 365 nights a year, and it's being worked pretty much every night, at least during the week … so getting time to observe with this telescope is actually pretty tricky."
Dahari joined a group of researchers studying how stars are formed. Stars, much like human beings, have life cycles, he explained: they're born, they live out their lives and they die. But there are many questions surrounding the details of how stars are formed, including what conditions might help or hinder them from forming.
The best way to see star formation is with infrared light readings. Infrared light is invisible, but can be seen through heat signatures with the right equipment.
Researchers can use tools, such as a reflecting telescope and high-powered camera, to make observations on what's happening with a star's formation.
"Infrared astronomy in particular is one of the best ways to answer this question, because with infrared energies that we can actually peer into these clouds where stars are forming," Dahari said.
The SOFIA aircraft and its crew fly into the stratosphere for hours at a time–sunset to sunrise, Dahari said. Researchers work all night until the plane touches down again in the morning, getting as much information from infrared light readings as possible.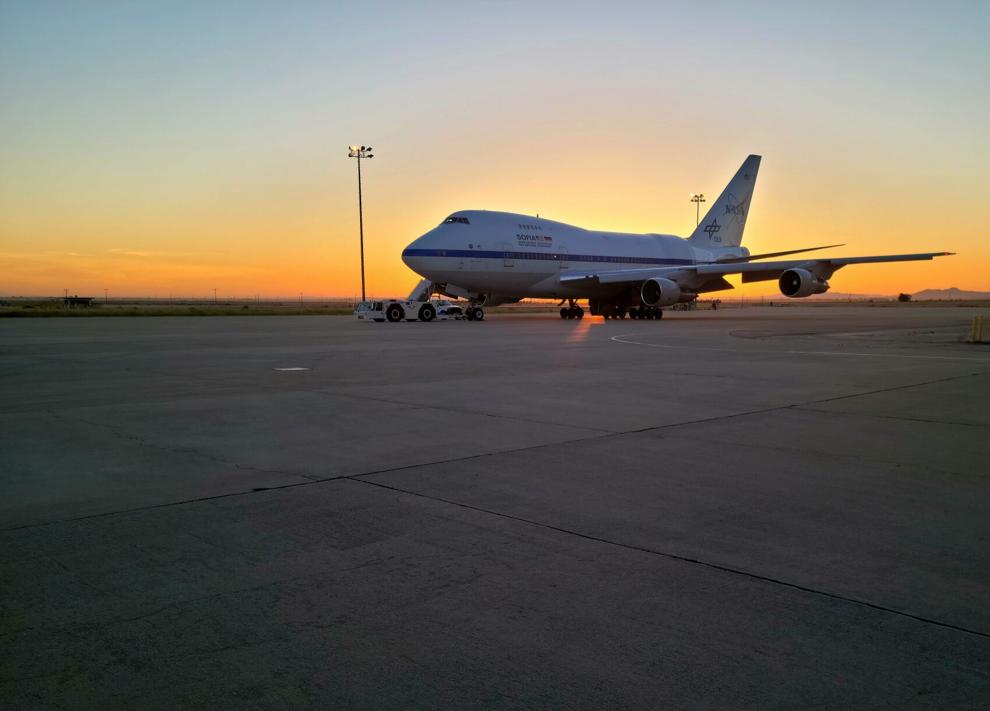 Water vapor in the atmosphere blocks infrared light from space, making it impossible to make these readings from the ground. So, researchers go above the water vapor.
"It's like a flying observatory," Dahari said. "It sounds like something crazy, but it's really the only way you can get these types of short observations of launching a satellite into space."
Dahari said astronomers have to be clever when taking measurements and making observations, since the areas they're focusing on are often distant and out of reach.
"In most sciences, you can take the objects that you're interested in studying and put them in a cup and look at them, or look at them under a microscope," Dahari said. "You can't take a star, you can't go to a star-forming region — it's almost impossible to go to the moon, you know? And that's right here. These are billions of miles away."
Dahari got to take two trips on the SOFIA aircraft, and both were a long time coming.
He originally applied to be part of the program in 2020, and had the trip canceled on him twice — once for COVID-19 concerns and another time because of an equipment malfunction.
In some ways, the delay of the flights made it bittersweet for Dahari. Since the trip was so late in the semester, he wasn't able to share as much of the experience and his lessons from it with the outgoing class of students.
For Amber Brown, a junior at the school who took Dahari's physics class, hearing about the trip even briefly was an inspiration.
"It made me want to get a telescope and go look at that stuff," Brown said.
Next year, the experience will certainly make its way into the classroom, he said.
"I don't know what it is exactly, but there's something about astronomy that kids gravitate toward — no intended pun," he said. "When you mention something about a planet or stars or galaxies or the vastness of the cosmos or the beginning of the universe, there's just kind of a natural affinity that so many students have toward that stuff."
.