For Community High School physics teacher and YouTube educator Jonathan Thomas-Palmer, unexpectedly running into someone who considers him a friend – even though they've never met – is not unusual.
"It's often a strange moment, realizing that a person has spent a lot of time with me even though I've never seen them before," says the Ann Arbor resident.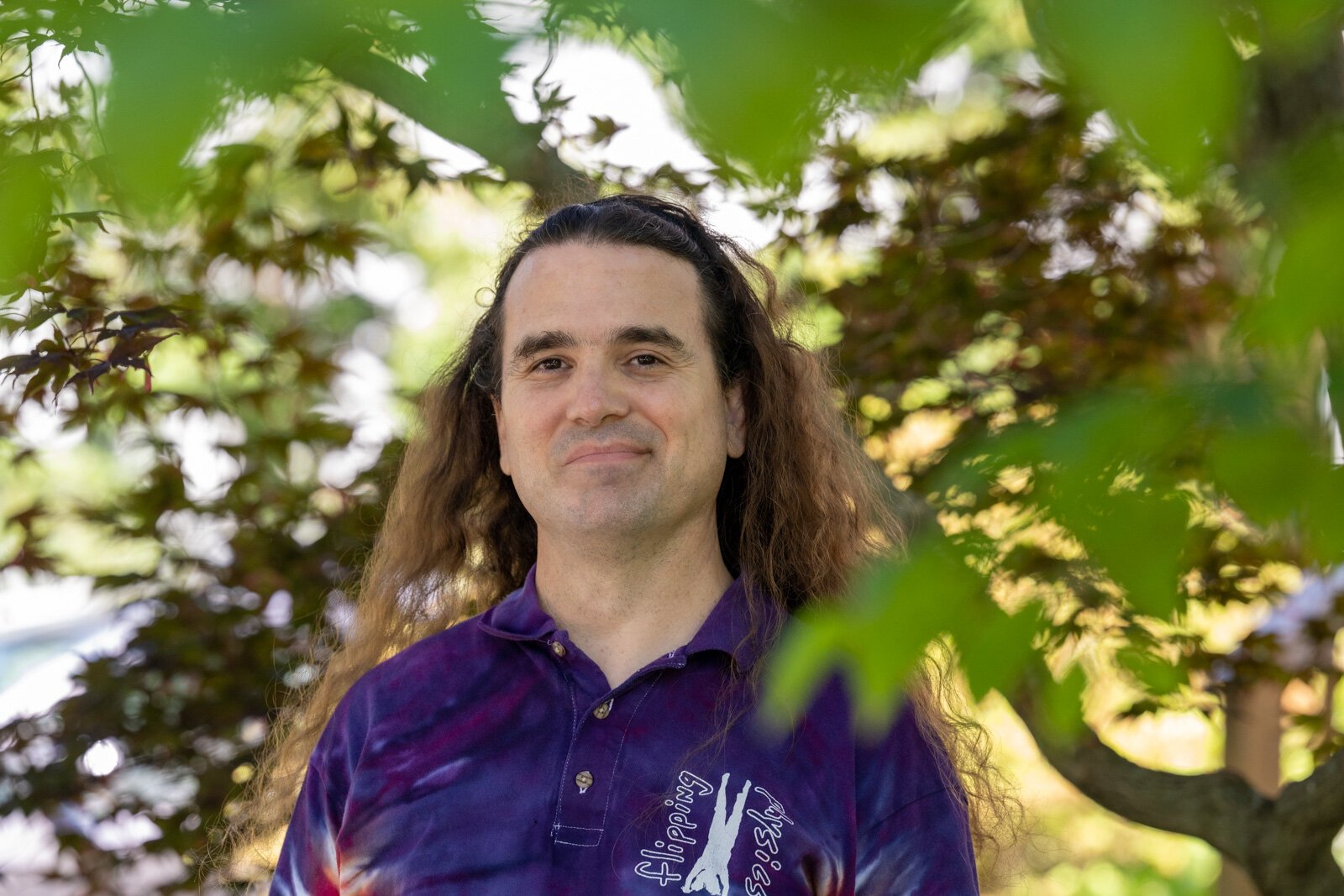 Jonathan Thomas-Palmer of Flipping Physics.
Those who don't know Thomas-Palmer in his capacity at Community High recognize him from his popular YouTube channel, Flipping Physics. Started in February 2013, the channel has 103,000 subscribers and 560 lightly comedic videos, usually uploaded weekly, with topics ranging from introductory physics concepts to AP exam support. The videos feature Thomas-Palmer, aka "Mr. P," a colorful and commanding screen presence with his signature long, curly, unfettered hair and tie-dyed shirt, teaching three students named Billy, Bobby, and Bo (all played by himself ).
Thomas-Palmer makes the most of teaching outside the format of a standard classroom lecture, adding animations, demonstrations, music, and more. He couples these presentation techniques with a playful dynamic between characters who have honest conversations, make mistakes, and get confused.
"I make videos that I personally would want as a teacher and as a student, and I think that's what makes me appealing," Thomas-Palmer says. "I love it, even though it's been challenging, humbling, and even a learning experience for myself. I'm getting more things right, and with every video I'm learning new ways to teach."
Thomas-Palmer holds degrees in mechanical engineering and education from the University of Michigan. His journey to becoming a YouTube star started in 2011, when he started videotaping all of his classes for his students. By the end of 2012, he had compiled 495 videos on his mrthomaspalmer YouTube channel, which he started using to "flip" his classes. He explains that teachers typically "flip" classes by creating videos of the lectures that they would normally do in class, focusing on group discussion and hands-on activities in class instead. (Thomas-Palmer explains the flipped classroom concept in his signature style in this video.)
The flipped model appealed to Thomas-Palmer, but he says his original videos were "simply terrible" compared to what he's been delivering more recently. He had filmed 80 hours of lectures over the course of a year, but something was missing.
"What I've learned with these videos is that there is always a better, different way to present the material than I had done previously in my classes," he says. "When I teach in class, it's just me talking or demonstrating something. Now I have this video camera and these three characters and so many different ways of doing things and connecting with people."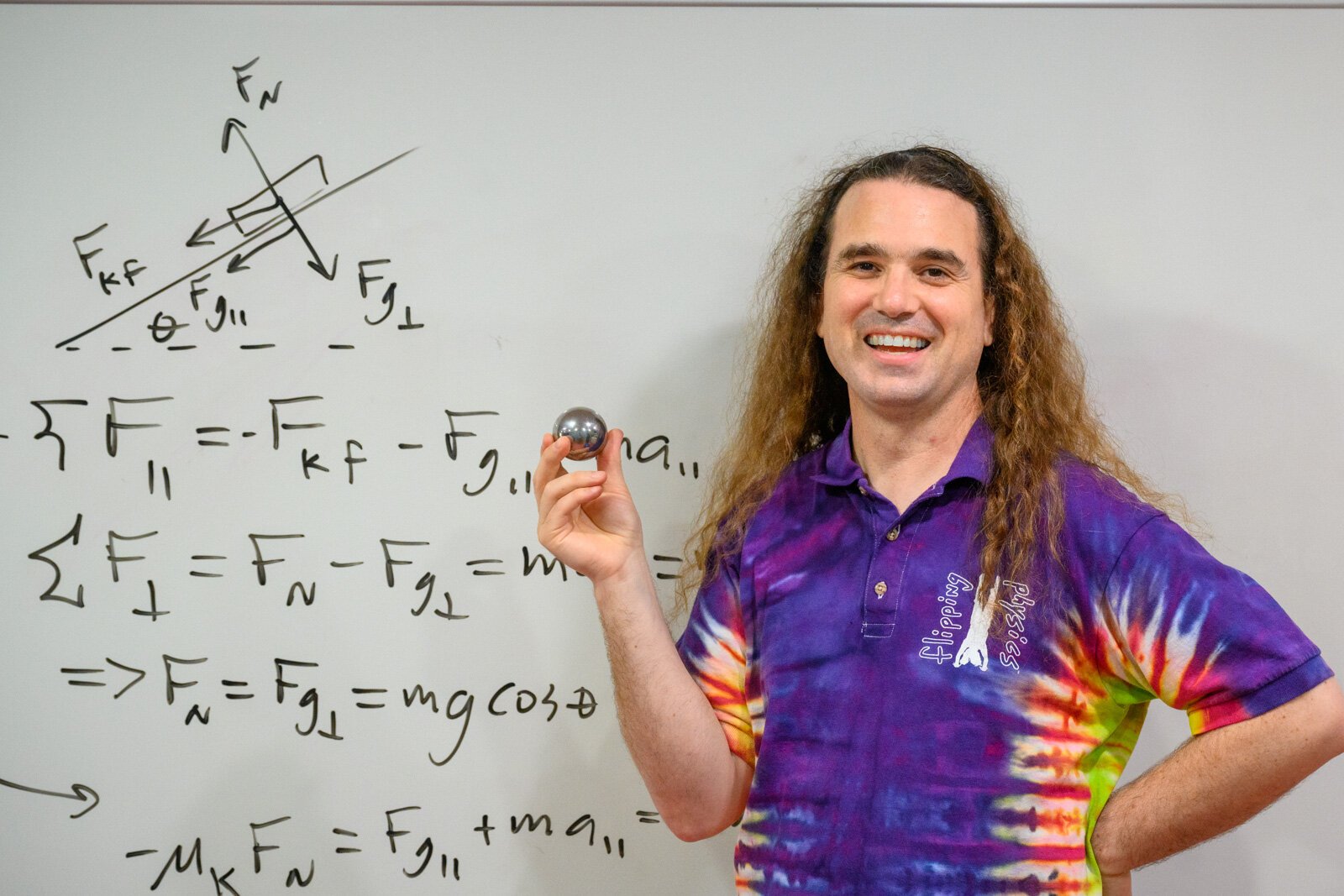 Jonathan Thomas-Palmer of Flipping Physics.
Flipping Physics has reached audiences far beyond Washtenaw County, as seen in this video of Flipping Physics viewers thanking Thomas-Palmer for his work. Thomas-Palmer has heard from teachers who are isolated as the only physics teachers in their schools, students who discover him a week before an exam, and people from poorer parts of the world, including in India and Brazil, who don't have access to physics education at all.
"The most touching feedback that I've gotten is from teachers who are teaching themselves the material so that they can teach their students," Thomas-Palmer says. "It wows me that the effect of my teaching is teaching other people to teach. It's one of the reasons that I keep at it."
In order to develop Flipping Physics videos (and a website with more supporting material), Thomas-Palmer resigned from his physics teaching position completely in 2013. But he's since had to return on a part-time basis, and he continues to balance classroom teaching with his channel growing. He receives some support via his Patreonand he says the word of mouth and people sharing his videos have proven invaluable to him as well.
"I am foremost a teacher. All I want to do is help as many people learn as possible with my videos," he says. "I'm hoping that people can recognize the importance of that and help me make an impact."
Jaishree Drepaul-Bruder is a freelance writer and editor currently based in Ann Arbor. She can be reached at jaishreeedit@gmail.com.
All photos by Doug Coombe.
.